According to dermatologists, cosmetologists, and plastic surgeons, more and more lesbian, gay, bisexual, transgender, and queer patients tend to address their aesthetic concerns with the help of dermal filler injections.
But what exactly are dermal filler injections? And what are the most popular implications of them when it comes to LGBTQ+ patients? Let's figure it out together by going through this article!
BEFORE WE START:
The treatment with the help of dermal fillers is a procedure intended for professional use. Only a certified healthcare provider is eligible to perform it and buy dermal filler products online.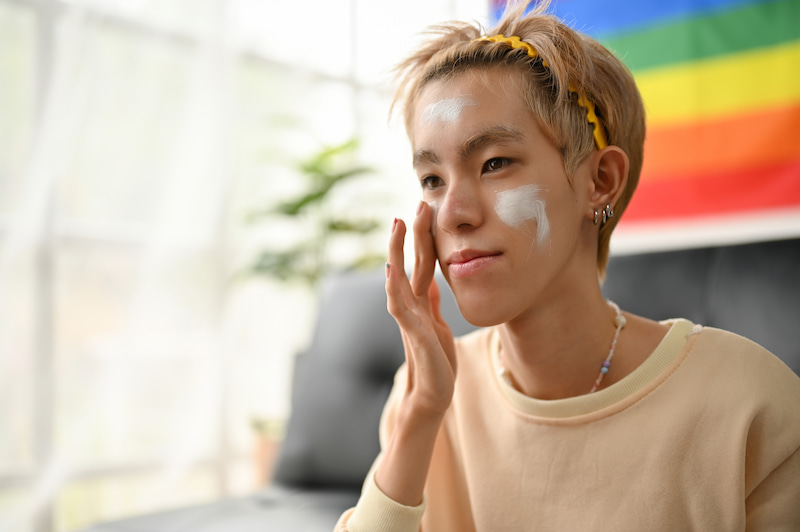 What Are Dermal Fillers?
Thanks to the above-mentioned information from the world of medical & aesthetic treatments we know that dermal filler treatment has gained an increasing popularity among the LGBTQ+ people. So, now it is high time to figure out what is dermal filler treatment.
Definition
In simple words, a dermal filler treatment is one of the most popular aesthetic procedures that involves an injection of a certain substance beneath a patient's skin with a purpose of rejuvenating and enhancing it.
Depending on this 'certain substance' injected beneath a patient's skin, dermal fillers might be divided into several types. Check out the short description of the main ones:
Calcium hydroxyapatite dermal filler solutions (for example, Radiesse);
Poly-L-lactic acid dermal filler solutions (for instance, Sculptra);
And so on.
The choice of the most suitable dermal filler type is a prerogative of a medical professional who should thoroughly investigate the overall skin condition of a patient and discuss the desired outcomes of the procedure with him/her.
A DISCLAIMER:
Dermal fillers are the products frequently compared to botulinum toxins (such as Botox, Dysport, or Xeomin). It is important to remember that both groups of aesthetic treatments are capable to provide patients with a youthful and attractive appearance in an effective way. At the same time, however, dermal fillers and botulinum toxins achieve their goals in absolutely different ways.
Indications and Results
Despite the common assumption that the only purpose of a dermal filler treatment is to help a patient achieve smooth skin by means of reducing facial fine lines and wrinkles, it is important to say that it might also be used with the following purposes:
To accelerate the natural production of collagen and, therefore, improve the overall quality of the skin;
To tighten the sagging skin tissues;
To restore the age-related volume loss;
To augment lips and improve their contour;
To smooth skin in other body areas (for instance, hands or neck);
And so on.
By means of helping a patient to achieve the above-mentioned aesthetic goals, a dermal filler treatment slows down the skin aging process and helps a patient to maintain a youthful and attractive appearance as long as possible. This way, it effectively substitutes a number of plastic surgeries.
At the same time, however, one must say that a dermal filler treatment does not create permanent results. In most cases, a patient is able to enjoy the outcome of the treatment for the time period that lasts from six months to years (unless prolonged by periodical touch-up procedures).
Still, the exact duration of results created by a dermal filler treatment strongly depends on the individual peculiarities of each patient, including his/her age, sex, health condition, skin type, and even lifestyle habits. The main reason for this is that each body has an individual reaction to the procedure.
What Are the Most Popular Implications of Dermal Fillers in the LGBTQ+ Community?
Lesbians, gays, bisexuals, and transgenders undergo a dermal filler treatment for a number of different reasons. While some of them wish to slightly change their overall appearance after a gender affirmation surgery, others want to remove the scars left by their gender transition. Let us check out the most popular implications of dermal filler treatments right away.
#1. Gender-Affirming Procedures
Gender identity is one of the main notions for every LGBTQ+ representative. In some cases, transgender women (assigned male people) and transgender men (assigned female people) need to undergo a number of gender affirming procedures in order to support the way they feel with their outer appearance.
Among the most widespread and popular gender-affirming procedures performed with the help of a dermal filler treatment and chosen by transgender women or transgender men to make their appearance more feminine or masculine are facial contouring and lip augmentation.
Facial contouring achieved with the help of a dermal filler treatment assumes the administration of the product beneath the skin around the areas of the cheeks or chin. With its help, an LGBTQ+ patient is expected to confirm his/her gender identity through his/her outer appearance.
While dermal filler lip augmentation, in its turn, is a procedure of high importance for transgender people who have undergone a transition from male to female gender. With the help of this treatment, these people manage to achieve fuller lips with a more feminine shape. It is also worth mentioning that gay men tend to use a dermal filler treatment for similar purposes.
#2. Scar Revision
Another popular purpose of using a dermal filler treatment in an LGBTQ+ community (especially transgender community) is to fill in the scars gained after a gender affirming surgery. This way, transgender people achieve soft skin in certain body parts and, therefore, gain more self-confidence.
For example, a transition from female to male frequently requires breast surgery which, however, leaves scars on the skin in the chest area. Luckily, a dermal filler treatment has the power to substantially improve the smoothness of the skin in this body zone and, therefore, makes the gender affirmation process easier for transgender patients.
#3. Anti-Aging Treatments
Last but not least, a dermal filler treatment is also used to support a youthful appearance of a person in a lesbian, gay, bisexual, and transgender community. By means of taking care of nasolabial folds, marionette lines, crow's feet, and other facial fine lines and wrinkles, LGBTQ+ people manage to maintain their skin in attractive condition.
While the acceleration of the natural production of collagen frequently achieved by a dermal filler treatment helps both male and female patients nurture the skin 'from within' and improve its overall health. Thus, a dermal filler injection is oftentimes used as an anti-aging treatment by LGBTQ+ people.
Final Words
All in all, dermal filler treatments are very popular among LGBTQ+ people. While being used for gender-affirming procedures, scar revisions, and anti-aging injections, they help lesbians, gays, bisexuals, transgenders, and queers to get one step closer to the appearance of their dreams.
POST SCRIPTUM:
BeautyDermal is an online supplier of brand-name dermal fillers for reasonable wholesale prices. One of its biggest values is respect to all people, regardless of their gender, sex, age, race, nationality, religion, or anything else. The greatest joy of BeautyDermal to make each customer happy and satisfied with the service it provides.