Botox – a popular brand used for skin rejuvenation and wrinkles reduction. With its help, you can easily provide a youthful appearance with just a few administration sessions in the doctor's office. And, to ensure the effect turns out as good as expected, there should be a clear understanding of the process to ensure patients are aware of what they've chosen as their regular skin treatment. So, we prepared this article for our readers to dive deeper into the mysterious world of botulinum toxins and the way they work for patients with various skin types. Without further ado, let's start the discussion!
Primary Information You Should Know About Botox
Buy Botox online on the BeautyDermal website. Various products from this brand are presented here, so add everything you need to the cart and confirm the order. Mind that we only work with licensed, board-certified professionals or individuals with valid prescriptions from their doctors. 
Botox is an injectable widely known for its muscle-relaxing abilities; thanks to those, it's commonly used in both medical and cosmetic spheres to deal with conditions related to muscle spasms. The main ingredient of this brand is botulinum type A, derived from bacteria called Clostridium botulinum. Even though you may have heard about the dangers of this bacteria, don't worry; the concentration of this component in Botox is very low, so it cannot hurt a person or be the reason of any life-threatening conditions.
Botox's manufacturer – Allergan – is well-known in aesthetic medicine for its other creations, such as Juvederm dermal fillers.
Wondering about the longevity of Botox in the forehead? Look no further than the BeautyDermal Blog, your ultimate guide to understanding the lasting effects of this popular cosmetic treatment. Delve into the science of Botox and discover the secrets behind its impressive results on forehead wrinkles.
Aesthetic and Medical Uses
Botulinum toxin injectables have a wide variety of uses in different spheres, so let's have a closer look at some primary procedures. First, the cosmetic field:
Dynamic wrinkles in the periorbital zone (such as crow's feet);
Smile lines;
Glabellar lines;
Forehead wrinkles;
Gummy smile;
And others.
Please remember that Botox is unsuitable for lips augmentation and deep creases elimination; dermal fillers would work much better for these purposes.
As for medical conditions treatments, we would like to highlight the followings:
Excessive sweating;
Chronic migraines;
Cervical dystonia;
Twitchy eye syndrome;
Etc.
Discuss the treatment with a doctor to create the safest and most effective plan for one's needs. People may expect long-lasting and natural-looking skin improvement if the procedure is performed according to all safety rules.
Botox: How Long Before It Works?
The working principle of all botulinum toxin-based products is the same and relatively easy to understand. After the product is administered into the target muscle, it requires time to reach the nerve endings and pause their contractions for some time. To do so, approximately seven-fourteen days are demanded. Of course, it may vary based on specific nuances, such as age or skincare routine, but a week is required on average. Discuss this step with a specialist to ensure recovery is non-problematic and the product works as expected.
How Long Botox Works After the Treatment
The main thing to guarantee a safe and effective Botox injection is to use the services of an experienced board-certified plastic surgeon; success is possible only if there is a clear understanding of a procedure, as well as perfect knowledge of human facial anatomy. Another useful thing is learning more about the product's durability in different facial zones; this way, it would be easier to plan the essential treatment steps and not let the solution wear off and lose effectiveness.
Forehead
Forehead lines are the most common problem people target with botulinum toxins; as one of the most active zones of our faces, it requires timely assistance not to spoil one's appearance and give an angry or tired look to an individual. An average dose of Botox varies from 10 to 15 units to provide natural-looking results without a "frozen" impression on the face. After the first injection session in a doctor's office, three to six months of smooth and rejuvenated skin can be expected.
Crow's Feet
When we smile or talk a lot, crow's feet become visible in the outer eyes corners. Once Botox is administered, muscles in this zone smooth out and relax, so lines cannot appear when people move their faces. As this target zone is relatively small, five to twelve units of the solution per side are enough to reach desired results. The durability is approximately four months, and it tends to last longer as the frequency of injection sessions increases.
Eyebrows
If you need to lift your brows, plastic surgery procedures are not the only ones that can help. Botox brow lift is a trending option gaining popularity in the cosmetic beauty sphere. Use two to five units per brow and enjoy the effect of an affordable treatment to preserve younger-looking skin.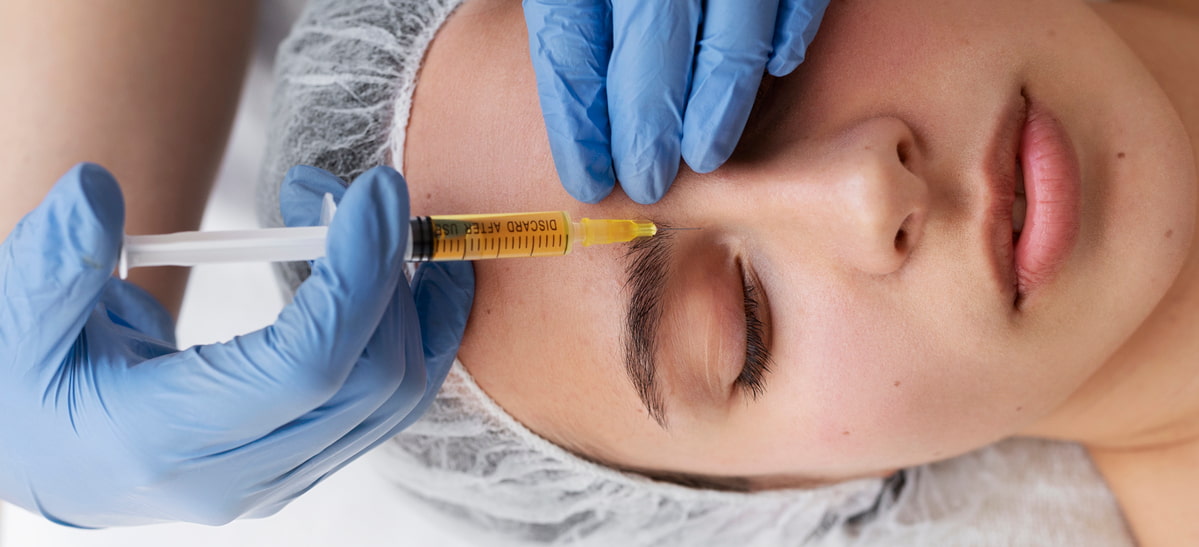 Glabellar and Frown Lines
Vertical lines between the eyebrows are also known as glabellar lines or "number 11s". Similar to forehead wrinkles, these require a higher dose of botulinum toxin to see a satisfactory improvement – twenty to twenty-five units. As with most suitable injection zones, the results last from three to six months.
5 Tips on How to Prolong Botox Injections
As we use Botox injections for facial wrinkles, we hope the effect will last as long as possible. But is it possible to do something at home to prolong the results? As a matter of fact, there is. Below, we will list some of the most useful advice you may try to ensure Botox's effect won't wear off for a long time.
Note: Please, discuss all of these with a specialist first to ensure it's safe to add these to your aftercare routine. Each skin type is unique, and the correct tips can only be picked according to their peculiarities and special characteristics. 
#1. Avoid Sun Exposure
We believe anyone who has the slightest interest in the cosmetic sphere knows that the sun is not a good friend to the skin. Ultraviolet rays are damaging to sensitive skin, especially to recently treated. Therefore, we highly recommend avoiding sunbathing, wearing clothes that cover your body, and not forgetting about hats. And, of course, always apply SPF before going out (reapplying it every 3-4 hours is essential to maintain its effectiveness). As a bonus, staying away from overheated places is another helpful thing to avoid swelling, bruising, and other local skin irritations. It includes hot tubs, solariums, hot showers, saunas, and other similar spots.
#2. Intense Workouts Are Not for You
Intensive exercising is meant to burn calories and build up muscles; thus, it increases metabolism and shortens the durability of Botox's effect. The solution breaks down sooner than expected, and instead of the desired four-six months of efficiency, people get two-three maximum. Of course, we don't say you should stop working out altogether; however, decrease the intensity and switch to yoga or pilates when you use botulinum toxin to block muscles.
#3. Keep Calm and Stop Stressing
Have you ever heard people can easily read the emotions on your face? Well, that's partially true because facial expressions are something that shows everything to the surrounding. Frown, scowl, or tense your muscles – and everything will be rather understandable. This excessive movement and cortisol (the stress hormone) released when we are nervous are the main reason why stressing out about things can reduce botulinum toxin's effect. Take care of your nervous system and ensure to not irritate yourself too much for the sake of your own beauty.
#4. Good Moisturizer Is a Key
To keep skin smooth and youthful, choosing a good moisturizer is essential. The right kind must be selected according to skin type, age, dermis problems, and other critical factors. We recommend high collagen and hyaluronic acid concentration products to keep it plump and smooth and increase Botox's duration.
#5. Quit Smoking, You Won't Regret It
Anything related to nicotine, whether it's smoking or vaping, causes collagen breakdown and damages skin cells; as a result, the effectiveness of Botox in facial muscles decreases significantly, and improvement fades away very quickly. On top of that, repetitive motions people make while smoking are why dynamic wrinkles occur with even higher intensity in those who suffer from this bad habit.
Are There Any Post-Treatment Complications?
As with most beauty treatments, side effects are natural body reactions to the unknown solution introduced during the procedure. Some time is required to ensure the product settles properly and is recognized as safe, so a patient may finally enjoy a pleasant sensation after the injection session.
What adverse reactions are considered safe and shouldn't cause too much trouble to an individual?
Local irritations on the skin surface (redness, bruising, swelling);
Increased sensitivity in the target spot;
Headache, weakness, tiredness;
And others.
However, sometimes adverse reactions hit more roughly, and people must be cautious and inform a doctor about any severe adverse effects. Symptoms like allergic reactions, swollen throat or tongue, vision impairments, irregular heartbeat, and other unfortunate complications require immediate medical help. Talk to a professional to avoid life-threatening conditions that may occur because of previously-mentioned side effects. In addition, be careful not to put too much pressure on a recently-treated area to ensure botulinum toxin doesn't spread out to the closes facial zones. If all recommendations are followed as required, there should be no problems after the injection session.
BeautyDermal.com presents an informative blog post that answers a common question among those considering lip enhancement: How long does Juvederm last in the lips? This comprehensive guide How Long Does Juvederm in Lips Last dives into the topic, providing readers with valuable insights into the duration and longevity of Juvederm fillers for lip augmentation.
The Bottom Line: How Long Does Botox Work?
Botox injections are among the most popular injectables for skin rejuvenation and reduction of wrinkles. Thanks to their ability to block nerve endings contractions, this product can easily postpone the aging process and provide appearance improvement for approximately six months. To ensure this procedure would be effective for one's needs, it's essential to discuss it with a medical professional; this step is also required to create the treatment plan, calculate the correct Botox dosage, as well as an approximate number of injection sessions needed to reach desired aesthetic goals. If the process is unproblematic and is performed correctly, the outcomes become noticeable in a few days (fourteen days maximum), and the effect lasts from four to six months. It can be easily supported with the help of regularly performed cosmetic sessions every three months (you may discuss the frequency with a doctor as well). Thank you for visiting the BeautyDermal blog!