Up until the 21st century, injectable treatments were primarily targeted toward white skin. The main reason for it is that Eurocentric beauty standards prevailed in the aesthetic sphere. However, more and more black and brown patients are now addressing their skin issues with the help of Botox, dermal fillers, and mesotherapy solutions.
But what are the key peculiarities of injectable treatments (for instance, the administration of Botox) for black skin? Are they anyhow different from those intended for lighter skin tones? And, finally, what are the most popular cosmetic injectables among black patients? Check out this article tofind answers to these questions!
Before we start: According to numerous clinical studies, human collagen levels peak by the age of 25. Each year afterward, they start to gradually decrease, which eventually leads to the appearance of wrinkles, volume loss, and sagging tissues. Thus, the usage of cosmetic injectables might be necessary to prolong the youthful appearance of the skin.
What Are the Main Injectable Treatments for Black Women and Men?
According to the vast majority of plastic surgeons, black women and men tend to undergo the following aesthetic treatments to the greatest extent:
Botulinum toxin treatment;
Dermal filler treatment;
Mesotherapy treatment.
Botulinum toxin injection assumes the administration of a powerful muscle relaxant beneath a patient's skin with the aim to get rid of dynamic wrinkles, such as smile lines, frown lines, forehead lines, or crow's feet. Among the main brands that manufacture products based on botulinum toxin (type A) are Azzalure, Bocouture, Botox, Dysport, and Xeomin.
You may also be interested in our article Ethnicity and Skin Aging. She also talks about different skin types and complements this article.
On a side note: These days, Botox injections for black skin gain more and more popularity. In other words, cosmetic procedures that involve them are now exceptionally frequently used for patients with darker skin tones.
Dermal filler administration belongs to exceptionally popular cosmetic procedures that aim to rejuvenate and enhance the overall appearance of a patient. It assumes the injection of a certain nutritive substance beneath a patient's skin in order to provide it with a well-hydrated, smooth, and glowing complexion. Among the most popular active substances employed by facial fillers are hyaluronic acid (Belotero, Juvederm, Restylane, and so on), calcium hydroxyapatite (Radiesse), and poly-L-lactic acid (Sculptra).
On a side note: Apart from skin rejuvenation and enhancement, cosmetic treatments that involve dermal filler injections might also be used for the improvement of facial volume and augmentation of lip tissues. These procedures, however, are more popular among caucasian patients than people with African-American skin. While people with darker skin colors, in their turn, tend to use facial fillers to treat the tear trough area and reduce the appearance of dark circles around the eyes.
Mesotherapy treatment is one more extensively used aesthetic procedure that aims to fight the first signs of aging, such as skin dehydration, tiny fine lines, and minimal volume loss. It assumes the administration of a number of nutritive complexes (usually consisting of amino acids, antioxidants, vitamins, and other elements) beneath a patient's skin. Among the most popular mesotherapy brands are Fillmed, Jalupro, Pluryal, Stylage, and Teosyal.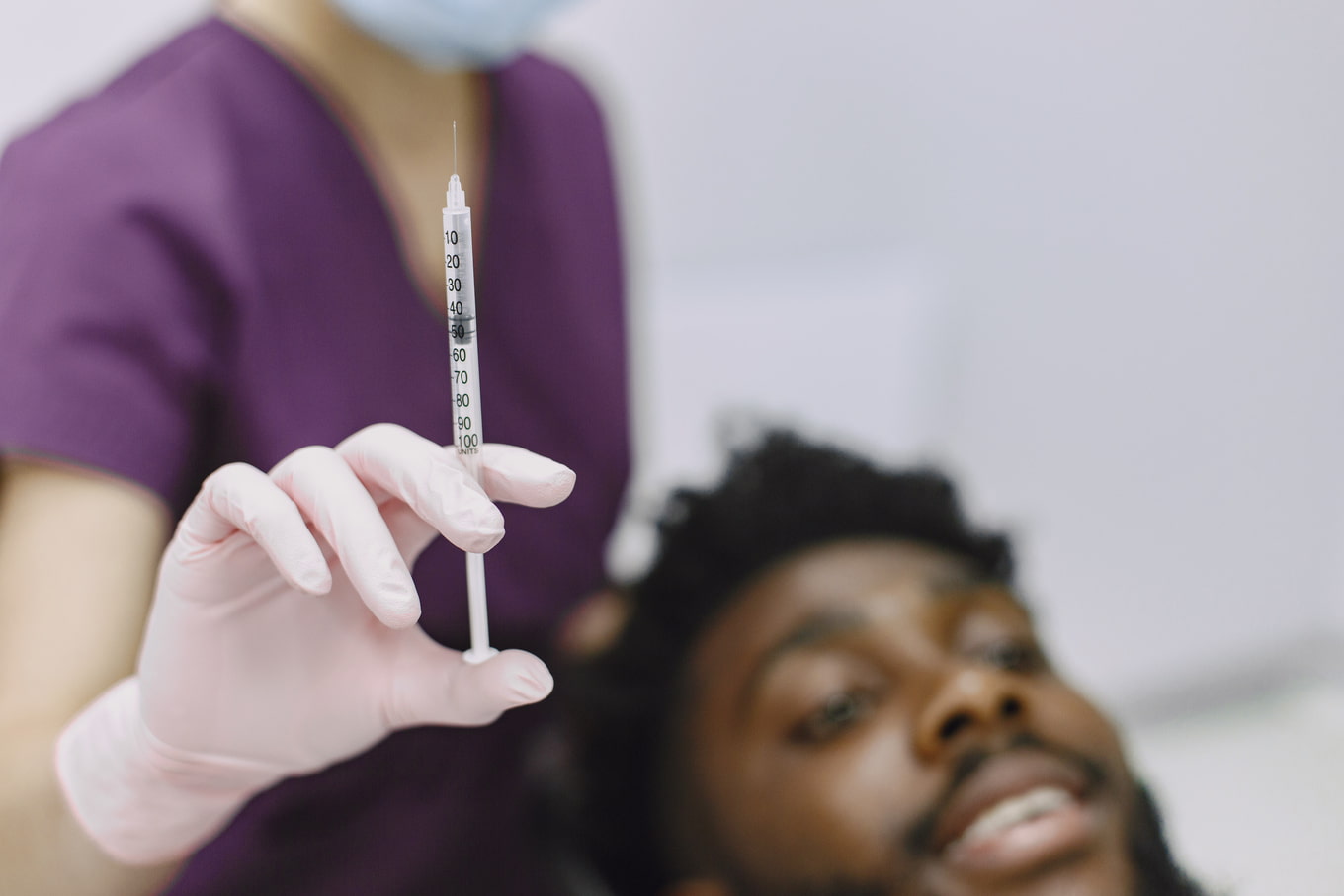 On a side note: One more skin issue oftentimes addressed by black people with the help of mesotherapy is hyperpigmentation. The main reason for it is that the procedure helps to create an attractive and even skin tone in a very natural-looking way.
Is There Any Difference Between Injectable Treatments (Like Botox or Facial Fillers) for Lighter and Darker Skin?
A very simple answer to the question of whether there is any difference between injectable treatments for white skin tones and darker skin tones would be the following: "No, there is basically no difference."
However, there exist certain differences in the way the skin of white and black patients ages, namely:
Compared to white women and men of the same age, black women and men tend to age slower. The main reason for it is that their skin has tighter collagen bonds and, therefore, is more resistant to the formation of wrinkles (as one old adage suggests, "black don't crack");
Black patients have melanin-rich skin. Therefore, it is more reluctant to damage caused by direct sun exposure, excessive heat, and other threatening to skin tissue factors.
As a result, black men and women are not so sensitive to age-related skin damage and photo-aging.
In other words, light and dark skin age a little bit differently. However, there is no actual difference between Botox and fillers that should be used on each of them. Most injectors state that they do not use different injectable treatments with different skin colors.
On a side note: Asian populations also have their own unique type of aging, which differs from the one white or black people possess. Therefore, we might state that phenotype plays an important role when it comes to the peculiarities of each person's skin type.
What Are the Most Popular Botulinum Toxins, Mesotherapy Solutions, and Dermal Fillers African-American People Use?
Among the most popular cosmetic injectables oftentimes used to treat African-American people are the following ones:
Cosmetic Botox (Allergan, Ireland). It is the #1 brand of botulinum toxins used to treat dark skin. By means of effectively relaxing facial muscles, it reduces the appearance of dynamic wrinkles (especially the ones around a patient's forehead) in a natural-looking way;
Juvederm Ultra (Allergan, France). A variety of facial fillers within the brand's Ultra range helps to smooth out fine lines and restore volume of dark skin tissues. As well, some Juvederm Ultra solutions might be used to add definition to the chin and cheeks;
Fillmed NCTF (Laboratoires Fillmed, France). While being specifically designed to provide a patient with profound skin care, these mesotherapy solutions are applied to nurture dark skin tissues that are characterized by hyperpigmentation, dryness, and lack of elasticity.
Typically, the administration of the above-mentioned cosmetic injectables might be used in a combination with other non-invasive aesthetic procedures (for instance, a chemical peel).
Before any injection, All You Need to Know About Oxygen Facial is described in our article. Be the first to learn useful information.
On a side note: Apart from cosmetic injectables that are mentioned above, there exists a wide range of solutions that might be effectively applied to fulfill the needs of aging dark skin.
A Bottom Line
Despite undergoing the aging process slower than white skin, dark skin also typically requires to be treated with the help of cosmetic injectables. Therefore, there exists a great number of botulinum toxins, mesotherapy solutions, and face fillers for African-American skin (such as Botox, Juvederm, or Fillmed).
So, feel free to nurture dark skin with the help of cosmetic injectables in order to rejuvenate and enhance its overall appearance. Remember, well-hydrated, smooth, and glowing skin is one of the most essential elements of an attractive appearance!
P.S. Similar to the administration of other cosmetic injectables, the injection of Botox, Juvederm, and Fillmed is intended for professional use. Thus, it should be performed exclusively by a certified healthcare provider with a valid medical license.