In the twenty-first century, the cosmetic medicine sphere started thriving quite quickly due to numerous reasons: new products were created for different purposes, the variety of procedures expanded thanks to active research, and people got their chance to achieve desired looks without going through complicated and expensive surgeries. One of the treatments people couldn't even imagine before is gummy smiles correction with Botox injections. Even though it may sometimes look charming and make a person look unique and pretty, some individuals don't like this feature of theirs and so want to change it. Here, we will tell you all about the nuances of this procedure, the way botulinum toxin works for upper lip muscles, as well as all the essentials of the administration session. Join us on this exciting journey!
Botox on the BeautyDermal website is available for purchase for licensed specialists who work in aesthetic medicine. In case you have any questions about the ordering process or the availability of the products, contact our managers to discuss the details. We are always here for you to make your customer experience absolutely exquisite.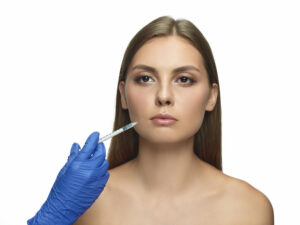 How Can Botox Treatment Help with Gummy Smile?
When talking about dealing with the excessive gingival display, most people believe the only way to do so is by using invasive surgical procedures. However, that's a misbelief that we are determined to dispel in this article.
Botox – a special solution that works with botulinum toxin type A – is a perfect product to deal with a gummy smile without complicated surgeries, which are typically expensive, unpleasant, and not the safest. Generally, this brand is often used to deal with various medical conditions, including bladder control issues, excessive sweating, chronic migraines, cervical dystonia, and other unfortunate conditions. Its main goal is to block muscle contractions temporarily and provide the relaxation needed for muscle spasm-related conditions treatment. On average, botulinum toxin injections work for up to six months, and the longevity of the effect can be easily prolonged with the help of regularly scheduled appointments in the doctor's office.
As for the injection spots, those vary according to one's aesthetic desires, so we will mention the best way to administer Botox to reduce a gummy smile appearance in the next paragraph.
Where to Inject Botox for Gummy Smile?
If you want to treat gummy smiles with Botox, one of the most important things for a successful procedure is the precise injection. That's the only way to have a safe experience and avoid problems once the procedure is over. The around-the-mouth area is very sensitive and has plenty of blood vessels around the lips, so a doctor must have an incredible knowledge of human facial anatomy to perform the treatment properly. The best place to inject Botox is the orbicularis oris muscle around the mouth; it controls the position of the upper lip, so once affected by botulinum toxin, it relaxes and changes its position slightly.
REMEMBER:
Botox is not the right solution for lip augmentation therapy. If your main cosmetic goal is to change lips shape, enhance them, and make the overall appearance fuller, talk to your doctor about dermal filler injection sessions. However, if you want to lower the upper lip to hide your gummy smile – Botox is the best option.
Stages of the Botox Treatment for Gummy Smiles
Before the Botox treatment for gummy smile correction, it's essential to discuss all the steps and ensure a patient has a clear understanding of the process. The three main stages of the session are preparation for the procedure, the administration process, and recovery or aftercare period. Each one is discussed and explained in the paragraph below.
Preparation
All cosmetic procedures begin with a consultation in a doctor's office. During this stage, a patient has a chance to ask all the questions, explain their aesthetic desires, and talk about all their worries. A doctor may also explain how the treatment is performed and how to care for yourself during the recovery. It's also crucial to mention all the limitations to ensure Botox is a safe option for an individual and won't cause any severe complications once the injection session is over.
During this stage, a specialist should also tell you all about the preparation for the treatment. Remember these pieces of advice:
Avoid cosmetic procedures that may damage your skin (for example, rough mechanical peeling);

Stop smoking and drinking at least three days before the Botox injection;

Avoid blood-thinning medications;

Eliminate spicy and salty food.
Injection Session
As soon as a specialist is sure the procedure is safe for an individual, they can start it. First, botulinum toxin administration spots are marked to clearly see where the needle should go during the injection session. Afterward, the area is disinfected to ensure the facial surface is sterile; if this step is skipped, there's a risk of skin infections developing after the procedure. Finally, the solution is administered with the help of an ultra-thin needle in small infusions; the area may be massaged afterward to help the product reach all the destination spots. Overall, the procedure doesn't take longer than thirty minutes, so people may schedule it even during their working days.
It's important to stay in a doctor's office for at least twenty minutes to see whether there are any immediate adverse reactions. If not, a person may go home and start with their aftercare for a faster recovery.
Aftercare Instructions
Minimal time is required for recovery after the gummy smile Botox treatment. A slight improvement is visible soon after the procedure, but local skin irritations should fade away before the results are fully noticeable. On top of that, botulinum toxins require an average of two weeks to reach targeted muscles and paralyze nerve endings' contraction. For the recovery to be non-problematic, a few simple rules should be followed:
Smoking and drinking should be paused for at least ten days;

For at least a week, a patient cannot take antibiotics, analgetics, and blood thinners;

Applying pressure to the treated zone is forbidden;

Strenuous exercises must be postponed for at least a week;

Places with excessive heat must be avoided as they can worsen adverse reactions.
Expected Longevity After the Botox Injection Session
The effect of the gummy smile Botox treatment is temporal, as with most injectable cosmetic procedures, whether it's dermal filler or botulinum toxins. Once administered into the upper lip muscle, the solution needs some time to reach the nerve endings of the target area and temporarily numb them. On average, it takes around seven to ten days, and during this time, people may notice their upper lip relaxing and slowly covering the gums. After that, the expected longevity of Botox is four months, and it's important to schedule maintenance treatments timely not to let targeted muscles regain their activity. We recommend discussing the procedures' frequency with a doctor, as only a licensed professional can evaluate one's aesthetic problem, calculate the recommended number of units for the injection session, pick up the appointment dates, and support the effect after the first administration.
More Ways to Deal with Gummy Smile
Botox is an efficient way to deal with a gummy smile; that's a fact. However, some people cannot use it for the treatment, and there are a few reasons for that: they may be allergic to the product, be scared of the procedure, or simply want to try other options on the market. Except for botulinum toxins, these methods are also effective for a gummy smile treatment:
Periodontal plastic surgery.

 Conducted in the dentist's office, this variant is perfect for people who want to deal with a gummy smile once and forever. During the surgery, the gums are cut to increase the surface of the teeth. Even though this procedure is complicated, kind of expensive, and irreversible, some individuals prefer to deal with the problem and forget about it. It's also vital to find a skillful professional who can perform the surgery well;

Speech therapy 

(it can require a long time to show decent results). This variant is not as well-known as Botox injections, but still, it offers pretty decent results. Lip mobility, the general tone of the lips muscles, lip shape, and other factors are vital parts of speech apparatus. A speech therapist may help to control the upper lip movement, change its position, and boost one's self-control;

The combination of all options mentioned above.

 Sometimes, just one method is not enough, so people prefer treating a gummy smile with Botox while visiting a speech therapist to control facial movement. The formula is typically created in a doctor's office with a specialist.
The Bottom Line
Botox for gummy smile treatment is an effective way to enhance the upper lip slightly, relax it, and cover the gums, which tend to show up while a person smiles. This procedure is an excellent alternative to plastic surgeries, which are irreversible, more complex, and undoubtedly more expensive. Discussing this option with a professional is the best way to find out whether it would work for one's needs; if not, don't be too upset – there are plenty of alternatives you can try to deal with this issue. That's it for today's article; thank you for visiting the blog!